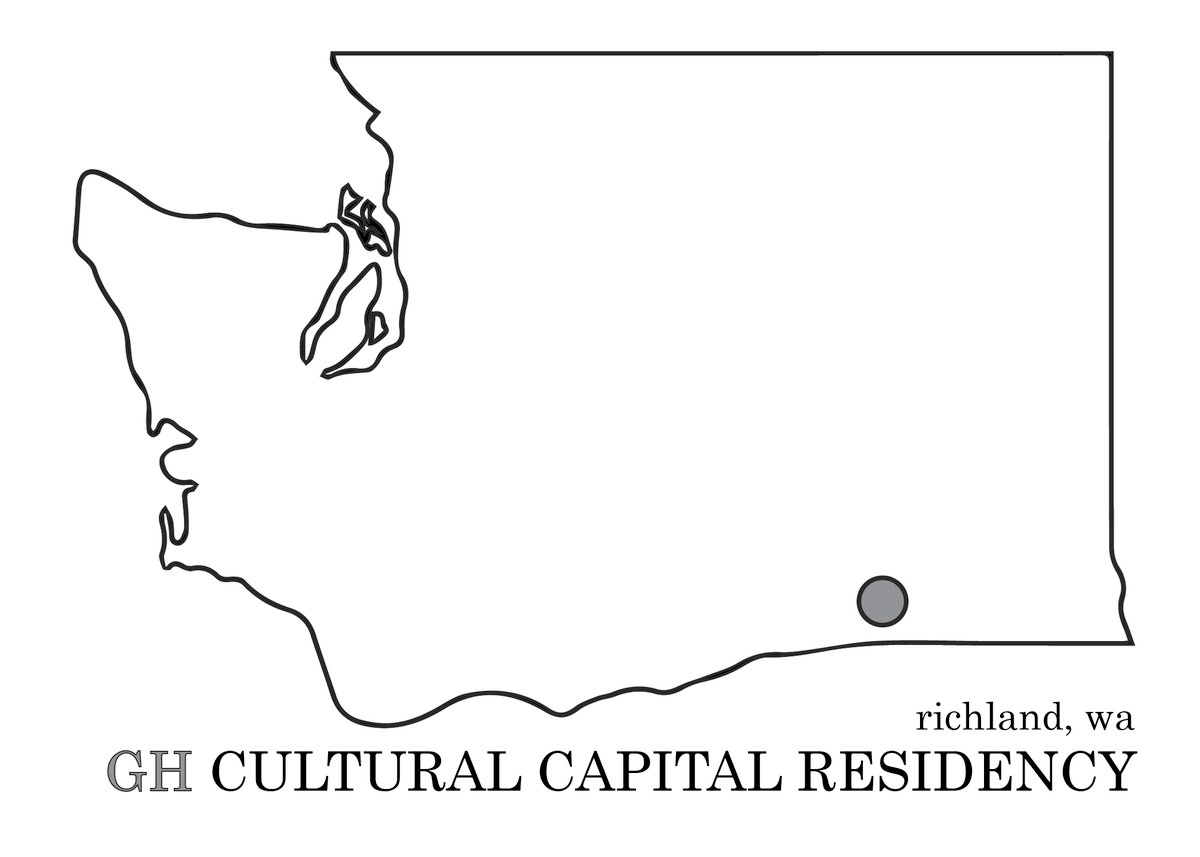 Disciplines: Activism, Architecture, Arts, Collaboration, Community, Culinary Arts, Design, Digital, Engineering, Film & Video, Fine Art, Installation, Literature, Media Arts, Moving Image, Music & Sound, Performance, Poetry, Research, Science, Social Practice, Social Work, Sound, Theater, Visual Arts, Writing.
Location: Richland, WA | United States
Duration: 1 week - 1 month | TBD
Eligibility: FREE | OPEN CALL for 2017-2018
Support: Housing provided for resident
Costs: FREE | No costs for resident
Program Description:
In collaboration with Washington State University, artist and educator Peter Christenson has initiated a cultural capital scholar residency in Richland, WA and is currently seeking proposals from creatives with diverse backgrounds and research agendas to participate in the community-based residency. Innovative and socially conscious scholars and practitioners working in a variety of fields and industries including the visual arts, architecture, engineering, urban planning, social work, design and media arts, creative writing & literature, culinary arts, etc. are encouraged to apply.

Selected residents will stay at the "Guest House," a living-learning community of Washington State University in Richland, WA for a short-term period of 1 week – 1 month based on proposal, room availability, and project objectives. Proposals should seek to connect to and build the cultural capital of the Tri-Cities area, a metropolitan community in eastern Washington. Residents will be invited to lead an educational, creative activity or lecture open to WSU students and the community at large and donate a piece of research / art to the GH Cultural Capital Permanent Collection. We are particularly interested in collaborative research and proposed projects that seek to engage the WSUTC student body, Tri-Cities community at large, and/or the regional geography and environment. There is no fee to apply and housing for the scholar will be covered for the duration of the residency. The GHCC Res is willing to support and collaborate with individuals and/or groups to procure external funding or grants when it is of interest and mutually beneficial.

About the WSUTC Guest House & Richland, WA:
The Guest House (GH) is a living learning community established by Washington State University, Tri-Cities (WSUTC) in Richland, WA to maximize student living by offering a communal "dorm style" experience for students to build relationships with others from diverse backgrounds who share interests and educational and professional goals. The GH is located less than two miles away from WSUTC campus. Selected GHCC residents will have their own private bedroom and bathroom at the "Guest House," sharing suite space with the student living-learning community.

Richland is a mid-sized rural / suburban community in Benton County in the southeastern part of the state of Washington, situated along the Yakima and the Columbia Rivers. With the adjacent cities of Pasco and Kennewick, Richland is one of the "Tri-Cities," and is home to Hanford, a mostly decommissioned nuclear production complex and Manhattan Project site.

As for the nature of the "cultural capital" label, (a borrowed Bourdieusian concept), the GHCC Res seeks to promote creative research, diversity, education, entrepreneurship, and innovation in our region, to re-define our "cultural trajectory," and build creative capital in the area while empowering local constituents. To these ends, the GHCC Res invites socially conscious developers and creative scholars to propose projects that help our community grow in a creative and sustainable manner, proposals that might be collaborative in nature as we're invested in partnership, and research endeavors that push our community towards the "contemporary discourse" of art and scholarship.

Application Process (Accepting applications for 2017-2018 season)
To apply, please email a CV, link to portfolio / research, and a 2-page (maximum) proposal to GHCC Residency Director Peter Christenson with subject heading "GHCC Residency." Applications are on a rolling basis; proposals should be sent to: peter.christenson@wsu.edu

Additional Information & Community Support:
+ Washington State University Tri-Cities Living Learning Community @ Guest House
+ The Art Center | Richland, WA
+ Washington State University Tri-Cities Campus
+ WSU Department of Fine Arts | Pullman, WA
+ Washington State University Digital Technology & Culture Program
+ Null Set Collaborative | Richland, WA


---